In September 2013 Nike will be unveiling the much anticipated Nike Lunarendor snowboard boot, building upon style and cult following of the Nike Zoomites, yet will add a secret ingredient that no other snowboarding company can possibly compete with. A trademark innovation that has made Nike an industry leader in athletic footwear, Lunar Foam is the latest edition to the Lunar Endor Snowboard Boot 2014. As if the king of foot wear didn't have enough anatomy knowledge, the lunar foam provides support to the ankle knees and overall posturing to improve the performance and reduce the impact on the joints after full day of abuse on the mountain.
Offspring Of the Nike Zoom Ites – plus Cutting Edge Technology
In a quick nutshell, the interior liners contour to your feet better than a memory foam bed and are designed with canting inside the boot so that you can stand more comfortably on your snowboard – with proper stance and posture, correctly aligning your ankles, knees, and joints for a more comfortable and efficient/accurate ride when it comes to turns, carves, and tricks. The boot also features heat insulating Strobel Technology that reflects cold and stores body heat to keep it inside the boot – yet the moisture whisking materials keep your feet dry ensuring no clammy sweat fest you'll find in most other boots.
Down to the dirty, let's get to the nuts and bolts of the Nike Lunarendor – find out what all the hype is about. Whether or not these boys deserve any street creds, or if this is all corporate press. We saw them unveiled at the 2013 Outdoor Retail shows and were more than intrigued by the lunar foam that would put anyone's memory foam mattress to shame. Honestly, it would be pretty hard to mess things up and NOT make a great boot at this point. The Lunarendors are based on the Zoomites – a top-selling boot for 3 years standing, and you've got a patented foam/cushion/insulation that no one can compete with. Yet, somehow even the biggest names can make epic missteps. But we'll give you a tip – that's not the case. Giving you a brief synopsis – here is a quick overview of why they are a lead contender for the 2014 Snowboard boot lineup – yet reading the details to know exactly what that means to you and how they'll ride when they are the only thing between you and the heavenly powder. Here is what you are up against. Here's the list of sales, discounts, and best deals on Nike Lunarendor Snowboard Boots.
Nike Lunarendor Snowboard Boots – Comes in White/ Hot Lava/ Black/ Cement Grey | 2014. Here are the Specs
Lunar Foam Insole – The namesake and mane innovation Gives you that bounce back and firm stance yet cushy/marshmallow comfort that aligns your posture, reducing the havoc on your knees and joints
3-D molded upper & full-length external backstay – fully surrounds shins and ankles, keeping your back from swinging backwards and avoids spine injury, increased rebound and pop, and added. Better flex and elasticity than any boot on the market.
Advanced Lacing Systems: Features durable neoprene eye stay, easy easy tightening. Lace locks/flex notch at the fourth loop for zonal tightening. As with all high end Nike boots, upper and lower lacing systems are independently adjustable.
Strobel Technology: Liners and Shells reinforced with Heat Insulating Strobel Technology – inspired by the technology used by NASA to insulate spacesuits.
Warm and Dry: Liners that Countour to your feet with Moister Whicking Liner Materials
More Support – Yet Flexibility and Pop when you need it: The Clean lines and molded exterior yield Nike's stiffest, yet most responsive bounce-back snowboarding boot on the market – with more pop and bounce than any other boot we've seen
As we've said before, Nike is the brand that Hijacked snowboarding – but know they have forever raised the standard. The expertise and decades of knowledge have been made evident time and time again in every sports arena, and snowboarding is no different. As finicky as our crowd can be – especially when it comes to big enterprise companies trying to seize up market share. Yet Nike brings years of expertise to the table, and hundreds of podiatrists with them (literally). So sit back, and see what the Lunar Endor's can offer – and start scavenging your couch cushions – because this will be the best investment you'll make in your winter get-up (and your knees with thank you).
Offspring Of the Nike Zoom Ites – plus Cutting Edge Technology
Before you drop $430. We know you want a comprehensive review, but let's start simple. Here are the main reasons why this boot is different, plus the differentiators that make the boot superior to the rest (aside from that Iconic swoosh that leaves us all a bit nostalgic):
Lunar Foam Insole
Designed with the Nike trademarked "Dynamic Support" innovated within the running department of Nike. Lunar Foam is the same trademarked material found in almost any Nike running shoe. Lunar foam material gives you that cushy bounce-back feeling as you hit the pavement. The difference in snowboarding is that you aren't running, yet you are putting hundreds of pounds of pressure on your feet when you are cutting edges and carving into the powder.
You need that same support and pop inside your boot, and that is where the Lunar Foam comes in. The Lunar foam gives you a snappy bounce back inside the boot when you are pivoting and grinding the board across the mountain.
Nike LunarEndor snowboarding boots also feature three levels of Lunar Foam customizable flex (aka removable Lunar foam insoles) to match your needs in changing conditions and personal preference for fit and comfort/riding style. The boots are packaged with two inserts which the rider can adjust to their riding style and comfort preference. Based on riding conditions and the desired flex hold of the boots, use no insert for a soft flex, pink inserts for a moderate flex, and blue inserts for a mega stiff flex.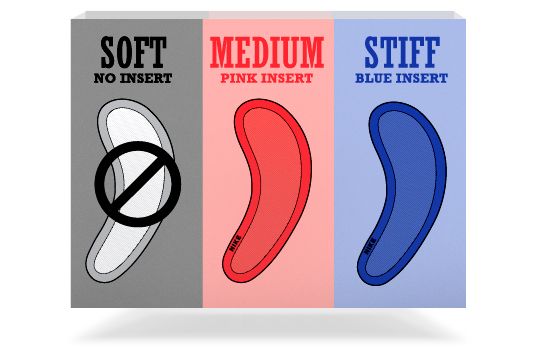 Let's put the technical terms aside. When you put a pair of these on, it's like you slipped your feet into marshmallow heaven. Bottomless marshmallow heaven that perfectly contours to your feet. The science wouldn't even matter – you would probably wear them as your winter boots.
So back to the technical specs. Let's not forget by the end of the day that it's not just your feet that feel the brunt. All that carving, dropping, and traversing takes a toll on your ankles, knees, and hips. The lunar foam keeps you canted in your stance, rather than the board. The Nike Lunarendor keeps your feet, ankles, knees, and hips aligned so you will be connected to your board in a correct posture for cleaner turns, and feel the burn from your muscles and not the aches from your joints. Not only will you feel the difference in terms of fewer aches and pains, but you'll notice the difference in your riding – you'll get more out of each turn. So throughout those powder turns, and sharp cuts – you are aligned correctly and your joints won't take the beating they otherwise would after a long day of riding. The difference the dynamic support system makes is like night and day.
Nike Lunarendor: The New Top End Bad Boys
The fact is, you can be flying down the mountain at 50 miles per hour on a sheet of snow, and the only thing separating you from the snow or ice is the board, and the only control you have over that board is how quickly and correctly your feet respond and transfer that direction to the board. The first level of reliance is the quality of your boots and their response to your movements. Having snowboard boots that don't respond, or feet that slide around in your boot and don't instantly respond – can give you a loss of control that could be critical – in a race, or in the backcountry where it matters.
This boot is so elusive, the only video about it is Steve Pelletier, Product Line Manager and Developer at Nike giving a brief 1:50 taste test. Literally, that's it.
Snowboard Boots Review: Nike Lunarendor 2014 at ISPO 2013
The Dynamic Lunar foam system gives you that soft cushy sensation that feels like marshmallow between your feet – the science behind it, is the lunar foam is contouring to your foot whilst giving that luxurious feel. Leaving no gaps under your arches the sides of your feet or on the back of your heels – you are securely locked into a foothold that will give you a forceful pivot whether you are flying through deep powder or hitting a sleek sheet of ice.
The Lace webbings don't just crisscross across the top of the arch of the boot where you can see them. They go down completely down the sides of the boot to the soles, giving you a snug fit around the top and sides of your feet. This is completely unique compared to the competition. The boot features the upper and lower zonal lace lock- and the upper laces independently (although the hardcore guys like regular laces).
While many boots do offer a strong backstay, that usually means
a very rigid boot with just as much give as a ski boot. This is where the LunarEndor is another game changer. Their material has a bounce back and pops that allows you to bend and swivel on your board, whether during tricks, popping of jumps – or simply walking to your' can in the parking lot – without looking like you have a cast on. These boots have energy, and flexibility – yet the support and full-length external backstay provide the full support you need – but give you an energetic, bouncy pop that you'll want when you riding the park or simply trying to get around off the board.
Here are the specifics on the Nike Lunar Endor Snowboard Boots 2014
The boots are packaged with two inserts which the rider can adjust to their riding style and comfort preference. Based on riding conditions and the desired flex hold of the boots, use no insert for a soft flex, pink inserts for a moderate flex, and blue inserts for a mega stiff flex.
The boot midsoles are designed after the iconic Nike Lunar running shoes, featuring Lunarlon cushioning giving a kind support that is not only soft to the touch but provides a firm consistent stance – alleviating pressure on the ankles knees, and joints. Make this a must-have for you hardcore riders whose knees are starting to give out after 15 years of chasing the powder!
The midsoles offer even more foam on the inside of the foot, which provides a canted stance to naturally align your ankles, knees, and hips for extended comfort.
High-end synthetic waterproof leather uppers keep your feet dry, yet the interior material wicks away sweat keeping you dry. Full-length backstays deliver high-rebound support – and provide additional control during strong switchbacks and power cuts.
The most advanced Lace-locking hardware provides a personalized secure fit by enabling the upper and lower zones to tighten independently of each other.  This makes getting in and out of your boots faster (which we all know is the biggest pain in the arse when it comes to getting unloaded in the parkin lot when you are freezing cold)
One of our favorite features is the Custom moldable polyethylene and EVA foam liners which feature an intuitive and stable power strap; one of the strongest and easy to use lace-up cuffs that dial in the fit with one single flick of the wrist.
Low-profile, shoe-inspired outsoles feature treads that grip the snow and ensure good board feel – and have the iconic good looks we all love Nike for.
These boots are full of brilliant little innovations, another is the warming Blanket Strobel – a heat reflective material found both the shell, and liner.  It helps retain the heat to keep your body temperature up and it keeps the cold out. Sounds simple – right? Well it's this attention to detail that makes Nike such a killer when it comes to the competition. When you wear these boots for a day – even in sub zero temperatures, you'll realize that your feet were never even close to uncomfortable – but these boots literally felt like yoru feet were in a cozy marshmallow spa.  Don't be surprised if you'll want to ride them down the canyon on the way home. That helps retain heat and keep the cold out
It's true that everyone loves to hate big names. Sucks for Nike, they are the biggest – but you simply can't hate on a fantastic product, and Nike has managed to win over one of the most finicky crowds in the sporting industry. So hats off to you Nike. We waiting in apprehension for the Nike Lunar Endor Snowboard Boots 2014 and can't wait to see what you come out with next.
The  Nike LunarEndor Snowboarding Boots will be available to the public in September 2013. Designed with dynamic support, low profile sole which adds to the sleek street look we love about the nostalgic Nike brand, the Lunar Endor has some new innovations that will have the competition running back to the drawing boards soon enough. –
Since Nike took over the snowboard boot industry by storm in 2011 by storm – we have said since inception they hijacked the industry. But kudos to them, they know feet. Regardless to those brands that invented the sport and invented the boards – Nike knows feet, and every other artifice of the humane anatomy adjacent to the fee. Essentially and is better equipped with the science know how to design snowboarding boots that will better support the feet, ankles, knees and hips to lend themselves to a better performance when it comes to riding. Nike is the mecca of podiatry knowledge (no kidding, how the number of podiatrists who participate in designing their footwear would shame any other snow board boot manufacturer). Nike has taken the Snowboard Boot industry by storm, and is now a leading contender just two years since introduction. They've since been introducing a line of snow apparel that's shamelessly flooding resorts all over the country and Europe alike. While Nike has many, MANY critics – who are very opposed to big name corporations coming into niche sports to take over – the proof is in the numbers. With the introduction of the Zoom Force 1 Nike Snowboard Boot, it was all down hill. With the Iconic Nike Swoosh, low profile sole and array of colors – the crowds were sold. Since then, the sales have just seemed to increase.