Bringing some beach to the streets, one step at a time – Olukai. For women, men, or kids.  Simple as the name – Olukai: OLU "COMFORT"  and KAI "OCEAN".  A Hawaiian-based company – true and blue to the Hawaiian culture, which is fully embodied in the craftsmanship and comfort of each style. Their production technique is simple and fit by nature.  The proof is in the footprint:  wet sand, which was the starting point for the contouring of the perfect undeniably supporting insole of the Olukai shoe. Carrying on the Hawaiian culture and the mentality that propels the company and the look and feel of each shoe, each piece of footwear has an intricate name from the language, and each collection tells its own story The premium materials and hand stitching of each shoe from premium leather, suede, wool, canvas or mesh –  provides an exquisite contoured fit that feels like you stepped onto the silky white sand beaches of paradise (minus the sand between your toes).  This luxury yet ridiculously affordable product has Milan designers sweating in their undersized pantsuits.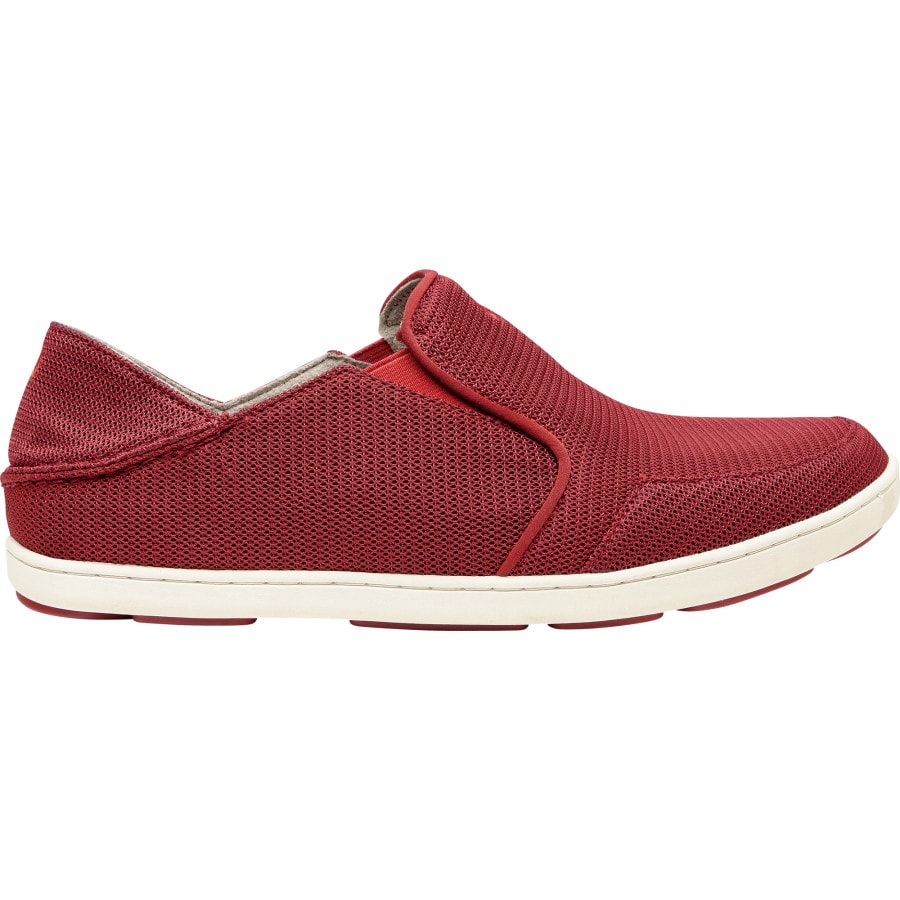 With unique offerings, from Vegan manufactured products, this environmentally conscious company has a philosophy as intriguing as unique as its product.  Not only have they won over a growing fan base just on their products alone, but they have been consistently nominated as the best company to work for by Transworld Business Magazine and several industry sports magazines around the globe. Essentially, the company has a philosophy that is as engaging as its products.
 What makes them different?  It's not just the uncontested style – it's the unmatched quality. These guys give the Italian snobs a run for their money.  With an affordable price, these shoes will last longer than anything else in your closet years and keep their original luster – and keep their same refined, yet rustic and comfortable swagger.
With the perfect amount of support, and just the right amount of give, Olukai shoes and sandals are the match made in paradise. Literally, made in Hawaii – the style and feel embrace leisure and luxury. On top of it – you couldn't find a company that is more environmentally conscious – they even have certain styles that are VEGAN-Friendly. The quality and attention to detail are undeniable, as evidenced in the case and point – with the Women's OLUKAI HOKU MOC pictured below:
With quality like this, you might think the prices would be as outrageous as those snoots from Milan, but you'd be surprised – with the down-to-earth materials and hand-stitched quality, prices are half what they should be. Styles like the OluKai Men's Moloa Shoe – (as pictured below in suede) are just one of the many that are starting to flood the streets across the fashion districts.
If you just laid your eyes on a pair of Olukai shoes, you'd understand why there are so many die-hard fans. Their attention to quality and detail is impeccable.
Another popular trendsetter was the Olukai Nohea – the OFFICIAL "drop-in" shoe.  Geek to chic, the Olukai Nohea's for men and women. Get it in canvas, wool, mesh, or suede. Laid-back Hawaiian style, with luxury materials and hand stitching.
On top of it – at GearChase we have every Olukai style from REI to Backcountry – Check them out – with premium leather, handmade contouring, breathable materials, and chic colors – bring some surf to the urban streets.

Men's styles come in sandals, boots, business hand-stitched leather shoes casual canvas-wool to training shoes. Yet you can buy more than just sandals, shoes made of premium materials from hand-stitched leather, to all-natural luxurious wools.  Offering men's, women's, and kids shoes – get set in style and comfort for all ages.
Women's shoes come in Sandals, boots, wedges, slip-ons, loafers, clogs, sneakers, running shoes, and other athletic shoes.  Kids' shoes come in sandals to sneakers.
So what are you waiting for? No more skate brand drop-in shoes that won't last, and finally a premium leather shoe that you can count on for impeccable style – and comfort. Let the stares start coming your way with your new set of kicks – Olukai. We never steer you wrong. Bringing some beach to the streets – one step at a time. http://gearchase.com/search/productgrid.aspx?q=olukai